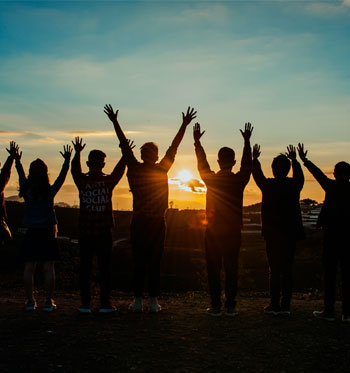 Board Success –
Focus On Culture
How we partnered with a nonprofit to transform board culture.
This client is a well established nonprofit providing a range of services to its community for over 25 years. When we first met with them they had a large board with 25 directors, a chairperson, a vice-chairperson, a treasurer and a secretary. Each board member was elected for an annual term, and there was no limitation on how many consecutive terms a board member could serve.
The board leadership was unified in its assessment that a change was needed – the board was disengaged, difficult to manage and lacked cohesion. Teamqore was asked to help transition the board to become a more cohesive and engaged body, that was able to engage with their work with clarity and in a systematic and productive fashion. We were also tasked with identifying gaps in structure, process and best practice, and supporting implementation with coaching.
Situation Assessment
The board of trustees faced multiple challenges – the bylaws did not stipulate term limits, the full board met every month, they did not have clearly articulated committees and the ED and staff attended every board meeting presenting their updates/concerns.
In this scenario, competing priorities detracted from board efficiency, engagement and productivity. Long-tenured board members were resistant to procedural changes because they were comfortable with the status quo, while newer board members wanted an engaged membership with streamlined workflow. Unfettered management presence at the board denied the board any opportunity (or privacy) to discuss board related matters that related to executive staff. And the lack of a well-defined committee structure resulted in the full board being inefficiently tasked with addressing every issue and concern.
Solutions & Implementation
Teamqore worked with the nonprofit agency and offered the following restructuring opportunities:
Created an emeritus board to transition long serving board members who had provided enormous value in earlier years and whose continued engagement was of value
Introduced changes to the bylaws introducing term limits
Created board committees with clear roles and responsibilities.
Defined board meeting procedures; set up a thinned down meeting calendar that allowed committee work to precede a board meeting
Set up a structured board chair/ED engagement process; streamlined communication and reporting between board and ED/staff
Established an executive session for the board within each board meeting
The timeline for implementation was over 2 years to ensure the board wasn't overwhelmed by concurrent changes. It also ensured time for discussion, listening and buy-in from board members and the executive staff.
Teamqore coached the executive leadership of the board on how to articulate the current challenges, present the proposed changes and ensure all participants felt included in the transformation process.
Impact
Increased focus and cohesion of the board by introducing executive sessions, a quarterly board-meeting schedule and a comprehensive committee structure
Increased productivity of committees through well articulated roles, responsibilities and processes; committee reporting was streamlined so the board was properly informed of committee goals and outcomes before the board meeting
More engaged and focused board chair/ED interaction with pre-scheduled meetings for a year and agenda tracking
Better time management during board meetings because staff interactions were limited to pre-determined and timed presentations; staff continued to engage with the board through committees meetings