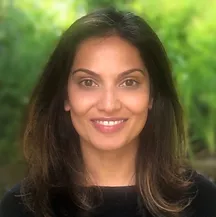 Krupa has been a thought-partner and advocate for several nonprofit organizations over the past 18 years. She has led successful long-term fundraising and donor engagement campaigns. As a facilitator and strategic thinker, she has helped organizations think creatively to advance their mission. She is skilled in areas of organizational strategy, innovation, program direction, board and leadership development, community engagement and governance.
Krupa has served on the Board of Sakhi for South Asian Women and currently serves on their Emeritus Board, the Advisory Board of The International Preschools, fundraising committee of South Asian Youth Action, and Advancement and Parent Executive committees of The Speyer Legacy School. She currently partners with Children's Aid and Family Services, Lend A Hand India, St. Jude Children's Research Hospital and Doctors Without Borders to help advance specific initiatives.
Krupa is the founder of a production company vested in bringing forward untold stories, recently producing a children's animated series focused on breaking Indian American stereotypes.
Previously, Krupa spent fifteen years in the healthcare industry in senior leadership, program oversight and management positions. She is skilled in leading organizations across sectors through a wide variety of challenges and developing successful data-based strategies for improvement and best practice. She is a certified Project Management Professional (PMP) and holds a BA in Psychology from the University of Texas at Austin.