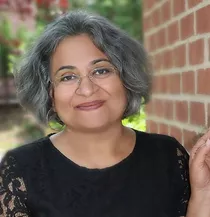 Lakshmi Rao Sankar
Partner
Lakshmi has a career that spans nonprofit stewardship, advocacy and thought leadership for nonprofit organizations and Human Resources Management.
Lakshmi has been a strategic partner with a range of nonprofit organizations working to advance neurodiversity, gender justice, and environmental causes. She has served in leadership capacities on the boards of Sakhi For South Asian Women, The Eden II Programs, Foundation for the Advancement of Autistic Persons and On Your Mark.
Her areas of specialization include leadership mentoring, succession planning and recruitment for executive management and board positions, development of quality management systems, strategies for tracking and improving impact, designing and implementing best practices in board governance, and developing systems and structures for fundraising, development and community engagement.
Lakshmi is a member of the Leadership Cadre at the International Association of Spelling to Communicate bringing thought leadership, advocacy and training to an international community of nonspeaking autistics. She is also trained as a Spelling to Communicate (S2C) practitioner, and has a NYC-based practice to teach communication and regulation to neurodiverse individuals.
She has worked in human resources management in the software industry, specializing in organization development, recruitment and training. Lakshmi has a Master's degree in Sociology and an MBA with specialization in Human Resource management.